News & Reviews
Catch up on my latest workshop news and read some in depth client reviews.
"A Fabulous Springboard"
21/06/2021
Mark and Angela Howard came for a three day course in June. Here's their review...
Hi Chris,
We hope you and Sam are well and have recovered from having us stay with you!
We had an absolutely brilliant time on our recent seascape workshop and now feel much more confident in our ability to capture a decent seascape image.
We liked the way you demystified the whole process for us. Your approach was both pragmatic and practical and you have a engaging personal style which enables you to get your points across really well.
We liked the fact that you discussed potential locations with us before the workshop and as a result we went to some 'world class' locations to see the sunrise and sunset.
We also liked the fact that you were flexible with the workshop content and tailored it to our level of experience.
As Lightroom users, we found the studio sessions invaluable as you introduced us to the benefits of using Camera Raw and Photoshop to edit our images.
We enjoyed the fact that you base the workshop at your lovely home and the meals you cooked were absolutely delicious.
Thanks for the advice on which filters we should buy; however we haven't decided to splash out on chest waders... YET!
In conclusion, your Cornish Seascape Workshop exceeded our high expectations and gave us a fabulous springboard to dramatically improve the quality of our images.
With our very best wishes
Mark and Angela
"Incredible Workshop"
10/06/2021
Here's what advanced photography enthusiast George George said of his two day Cornish Seascape workshop...
Hi Chris
First and foremost, a big thank you to yourself and Sam for being such great hosts during my brief stay with you. On meeting you I felt relaxed in your company as you put me at my ease and welcomed me into your lovely home. Great company and great food. Thank you both.
I have three significant take-aways from your amazing workshop experience: well researched knowledge of sites is essential; Photoshop is not so scary after all; and don't assume that a nice walk with your camera will turn in good shots. They don't come to you, you have to get properly prepared and go out there and get them.
There's no doubt Cornwall provides plenty of opportunity for Seascape photography, however knowing the great locations to go to experience the best opportunities for extraordinary light and drama within a two day window - even if it does mean getting up at 3.00am - can only come with your exceptional local knowledge.
As I think I said while with you last week, your incredible workshop opened up the magic and power of Photoshop to me. My go to post processing tool has always been Lightroom. PS was a scary step too far and anyway, what could it do that the LR grad filter and clarity and saturation sliders couldn't?.. Well how wrong could I be! By following your simple work flow, I learned how to turn the acceptable into the exceptional, and I now have the confidence to further broaden my knowledge of this amazing programme.
Of course, even PS needs an image that is at least 80% there in terms of composition, light and colour, and here your guidance on filters, camera settings and positioning was invaluable - and thank you for the loan of the filters and the chest waders!
I may not be at competition winning standard, and in fact that's not my goal, but you have taken my photography to another level and I'm really excited about putting all the lessons of these intense two days into practice.
So again thanks for exceeding all my expectations of this Seascape course. I will keep in touch and maybe take advantage of a further session with you either in the autumn or winter months. Until then I have a lot of practice to do, and a lot of old photos to re-visit in PS!
My very best wishes to you both.
Regards
George
"More enlightened and capable"
24/05/2021
Morning Chris,
I just wanted to say thanks a million for a fantastic couple of days. I really enjoyed the workshop experience, the tuition, welcoming hospitality and the great food, but most of all, a really good time.
You took me to some cracking locations and gave just the right amount of guidance when needed. I have been on courses where the leader might have well been taking the picture themselves ('do this', 'do that') but your style is very comfortable and it was easy for me to understand what you were looking to achieve. I don't think I will ever shoot in more challenging conditions but I have learned a huge amount. Not only about techniques but also composition and how to get the best from the coastal conditions.
Thanks to you and Sam for welcoming me into your lovely home and for the five star treatment. Your B&B/residential concept works really well and I felt totally relaxed and very much at home.
The time in the studio was invaluable and my working knowledge of Photoshop has increased immeasurably. Some really top notch advice on how to refine a photograph without impacting on its integrity.
You have a real talent Chris and a passion for what you do. You clearly love the Cornish coast and the enthusiasm you have for it can only rub off on people like me.
I'm looking forward to processing more of my images over the next few days and will send you some. Overall, I feel I am a much more enlightened and capable photographer than the one I was when I turned up on Wednesday. I will definitely be back in the winter to shoot seascapes in totally different conditions.
So thanks again for a great workshop and I will catch up with you again soon.
Cheers
Garry
'One for my Dad' - Andy Knott
19/10/2020
"Dear Chris
I just wanted to thank you for an excellent time down on your 1-2-1 Cornish Seascape course - I had an absolutely great time.
You are a man who is an obvious expert in photography with an ability to clearly explain complicated aspects of photography and manually using a camera, as well as the intricacies of Photoshop itself - which I know scares a lot of people away.
Combined with this expertise you have an extensive knowledge of lovely locations around the Cornish coastline that made for really stunning backdrops to practice the techniques you had outlined.
As you know my goal was to get an image from this course that I could print at large size as a tribute to my dad and his photography interest. I'm so very grateful that with your help, I got to shoot that lovely sunset at Holywell Bay. You knew from the look on my face when we got the disk back into your studio how taken I was by that shot.
Along with all this skill, it would be remiss if I didn't comment on that absolute pleasure it was to be a guest in your house - the accommodation was 5 star, but your cooking was well above 5 star!.. and how could I fail to mention the absolute delight it was to meet Sam.
I can't thank you enough for everything you both did for me, and for your company for those few days, it was an absolute delight and I learnt loads."
Cheers
Andy
"Bottomless Knowledge"
29/09/2020
Keen amateur photographer Tom Bird came down for a two day course. Here's his overview of his Cornish Seascape Workshop.
"What a fantastic couple of days seeing and photographing some truly spectacular Cornish bays, coasts and seascape locations!
I booked this 2-day 1:1 workshop with Chris after seeing his Cornish Seascape Workshop advert in Outdoor Photography and visiting his website. I followed a link and took a look at his photography website and decided this could be for me. I don't have significant seascape (or photography) experience but wanted to give it a try.
I am delighted to say that the trip exceeded expectations in every way.
Chris is an experienced professional photographer who now focuses on seascapes - his knowledge of both the discipline and the topic is bottomless. As is his understanding of the Cornish coastline and he knew the best places to visit for sunrise and sunset shoots and how to get the best from the opportunities that the weather conditions presented. In his studio, he showed me the way to get the best from my shots using Camera Raw and Photoshop, something I had been wary of until now and the results were excellent!
He can accommodate 1 or 2 people in his COVID aware home and looks after all the details so well...meals, snacks, transport, briefings, the best locations based on sun and tides - everything.
I arrived at lunchtime and was immediately put at ease by Chris - nothing too much trouble and a very easy going approach. He clearly just wanted me to a) get some great seascape shots (tick) and b) have a relaxing and enjoyable time (tick).
I would recommend this workshop for anyone interested in seascape photography - most of his clients return and I am sure I will be one of them!"
Re-invigorating enthusiasm
10/03/2020
Experienced club photographer David Fraser wanted to get re-inspired so he came for a 3 day workshop in early March. Despite some challenging weather he managed to capture some cracking images. Here's his review...
Hi Chris (and Sam),
Thank you for a fabulous three days on your Seascape Workshop. Although the weather conspired against us a bit, I got some good images at the great locations you took me to around the Cornish coast. Using chest waders to get into the tideline was a revelation, as was using back-curtain flash and the range of filters you provided. Your relaxed and knowledgeable approach meant that, even when the weather stopped us getting our cameras out, I felt that the opportunity to discuss photography issues in a wider context was instructive and beneficial.
Back in the studio, learning about your fine art workflow using Photoshop opened my eyes to the subtleties of image manipulation using that software. I will definitely be practising those skills on my better images in future.
You have a lovely house in a great location for your workshops, and you and Sam have such a relaxed and friendly attitude that made me feel so welcome. And I really enjoyed the results of your second hobby - cooking! What wonderful meals you prepared (and Sam's desserts were a real treat!)
I certainly achieved the key aim of re-invigorating my enthusiasm for photography. Thank you again.
Best Regards
David
A Surgical Course Breakdown
19/06/2019
I had a client fly over from the USA for a mid June workshop. He is an eminent doctor, lifelong photography enthusiast and a true gentleman, and I had a wonderful five days showing him around Cornwall.

Here's his review...

Chris,

I want to thank you for one of the best photographic workshops I have ever attended.

Over the past 25 years I have been on many photo courses run by professional photographers around the world and the UK. These covered a wide range of disciplines - Landscape, Nature, Safari, Portrait, Wildlife etc. Yet your Seascape workshop stands out by far from any one of them.

Let me elaborate a little more as I know feedback is important to you. Firstly, it is rare to find a course that offers accommodation, food and transport and all you provided was simply excellent. I was free to relax and enjoy my time concentrating on the photography. Which leads to the most important aspect of all, your expert instruction. I cannot express just how invaluable the in-depth insight and one-to-one format was to the overall learning experience. While informal and relaxed, my five days were superbly organised, totally stimulating and above all, educational.

The morning spent at 'Dinosaur Egg Cove' was a true inspiration. I learned so much about the behaviour of the sea and now really understand the effects of tide, flow, cloud, currents, time and most importantly the light on capturing it's "mood". Besides this, I also learned about varying manual settings to get different results from the same composition, and here your use of flash came as a total revelation. Excellent! I also appreciated you sharing your wide selection of filters and learning how, when and which ones were best to use. All this made such a difference to my final images, that were indeed "captured in camera" as you impressed on me.

Then we come to post processing, and what can I say? In truth, the time I spent in your studio has transformed my photography. Again, the one-to-one aspect was ideal and I learned so much. I really do now fully appreciate just how effective processing raw files through Photoshop CC is. Until now, I always used Lightroom, yet the fine art workflow you have created is so intuitive and comprehensive, and as for the results, well my Cornwall pictures are quite simply, magical!

I sincerely believe you should make your presence more visible to the wider photographic community. Because anyone who wants to improve their photography needs to get to know you and your Seascape workshop.

It has truly been an honor and pleasure to spend those five days with you. I'm hoping you take up my invitation of coming to Chicago and spending time with me and Melissa.

Do convey my best regards to Sam.

Kishore Karamchandani MD, MRCP
A Happy Man!
05/06/2019
I have had many clients who have really benefitted from their Cornish Seascape Workshop. Some have sold their pictures, many have won competitions in their camera clubs, one was commissioned by a large chain of shops and I have helped a couple to forge professional careers. Yet when I was recently contacted by 84 year old George Hodlin, I received some of the best news to date.
George came down in June 2018 on a 3 day course (but top and top and tailed these with B&B nights, so he could take time and relax into his course, and get a good night's sleep before heading home to Yorkshire). We experienced a wide range of weather conditions. From brilliant summer sunshine to dark and moody overcast skies. And bearing in mind his senior status, I matched the locations to George's comfort levels. So he could easily access the shooting positions. Yet fair play to the man, he asked for a pair of waders and walked right down the winding track to the tideline at Porthcurno. A truly impressive effort!
On his last day, on the daybreak shoot down the lane at Crantock beach, George captured a long exposure image using a Lee Big Stopper, and we processed it back in my studio. It was just one of a number of really good images he took home and he was really thrilled with his time spent in Cornwall. And that always makes me feel good for there's nothing better than seeing a client achieving their aspirations.
Yet 11 months later, when he emailed me to say his image had been accepted by The London Salon Of Photography, I was ecstatic! He is obviously a very happy man as he has been trying for years and this marks a high point in his photographic achievements. It's a lovely feeling knowing you have helped someone achieve their dreams and also really good to have him book a return stay. So everyone's happy!
Photograph Poldark's Cornwall
03/06/2019
The BBC's hugely successful 'Poldark' series draws to a close when the fifth and final season airs this Autumn. Each episode has devoted much skill and effort in capturing the wild, romantic beauty of the landscape and the programme has provided a proud boost for Cornwall. For worldwide audiences are witnessing the diverse beauty of our county, with a special focus thrown on to the magnificent Atlantic Coast.

And I feel sure the author would have approved. For Winston Graham wrote his Poldark novels during his annual family holidays at a dwelling set up on the hills overlooking Perranporth. He loved this stretch of expansive coastline and he brought its history to life through his words. Yet as his tale reaches the end of the road, so the Poldark tourist trail is getting busier and busier. People from all over the globe are heading here, to see for themselves where their TV heroes and villains brought Graham's books to life.

So as Ross and Demelza trundle off into the sunset on their horse-drawn carriage, the winding country lanes to Holywell Bay, St. Agnes, Bottalack et al, are backing-up with coach loads of their fans.

As you would expect, most of the incredible coastline appearing in the TV episodes, also featured amongst my Cornish Seascape Workshop locations. Indeed, a number of images I had shortlisted for Outdoor Photographer Of The Year back in 2015 and 2016, were taken at 'Poldark' places.

So, if you are a photography enthusiast, and would like to see Poldark's Cornwall at its best, then rather than sitting on a packed coach and being amongst the crowd trampling a beach, why not come along with me?

For I can show you the series' coastal locations, just as Winston Graham envisaged them when writing amongst the dunes of Perran Sands. Wild, remote, untamed and untouched... At dawn and dusk, it will be just you and me. There will be few or no other people around. And for the 'daytime' shoots we will select the locations that do not appear on the coach tours and are off the tourist trail. So at the times we visit, you will see and photograph the locations at their very best.

As for timing and accommodation, my photography workshops run all year round from my home/studio in Crantock on the Atlantic Coast, with stays from 2 to 5 days in duration. So you choose when you come along and for how long you stay. So you can select the atmospherics and colours you want to experience. The wild, stormy tempests and brooding skies of Winter. The bright, vibrant colours and energy of Spring. The heady warmth and sunshine

When it comes to photography, don't worry if you are not an expert with your camera. I teach from Beginner through to diversifying Professional, so I promise to pitch the tuition at a level that suits you. Likewise in the studio, I will show you how to process your images, to create stunning pictures of wonderful places, using methods that compliment your computer skills.

And when we are not out on the coast, or in the studio, you can relax in your comfortable en suite accommodation and dine on delicious, locally sourced food. So when all is brought together, you will experience a truly memorable, enjoyable and enlightening experience.

If you would like to know more, then get in touch through the Contact Me section of this website or email me directly; chris@c-simmonsphoto.co.uk
Highland Loch & Seascapes - Go wild on my new Workshop adventure!
30/05/2019
I've been roaming the Scottish Highlands and Hebridean Isles with my cameras for over 30 years. For here the breathtaking, uncompromising Scottish landscape inspires and enthrals. A frisson of excitement still runs through me at the thought of venturing out into a dark, distant glen long before dawn. Or standing in the tideline of a incredibly beautiful, deserted beach as the daylight deminishes, and capturing what is illuminated in my lens. It is quite simply, awesome.

At the foot of ancient, brooding mountains and across wide, empty coastlines, a wonderful array of atmospheric light and colour evolves throughout the seasons. The weather can be soft and serene one moment and wickedly harsh the next. You can be tracing a high mountain track to reach hidden waterfalls in the morning, and driving up to a deserted beach in the afternoon. If you know where to go, the location choice is endless. So despite enjoying new travels and living in magnificent Cornwall, this is where I love to return to when I need to get away and really 'go wild'.

As many of my clients know, I have been trying to find a way of bringing a 'Highland adventure' into my workshop courses for a few years now. I've looked at many ways of how to capture the essence of my Cornish Seascapes, without falling into precisely what my One-to One courses are not about. And that would be by offering a group tour. For even the biggest beach or widest glen can be compromised when you get more than a couple of photographers roaming across it!

Also there are plenty of Scottish 'workshop' group tours already. There are also many courses run by local photographers who offer in-depth knowledge of their particular locale. So I would need to think better and bigger!

Firstly, I decided my course would still be One-to-One. I knew this would seriously impact the course price but I know the exclusivity and exceptional difference my course offers, will be recognised by those who want a truly unique Highland photography adventure.

So then I looked at 'how and where'...

'How' is usually travel in Land Rovers and sleep in the back, wild camp in my tent, or stay in a bothey. Yet bearing in mind the weather and midges, this is not a viable option for my clients!

So thinking I could combine accommodation with transport, last Autumn I did a trip in a six berth Mobile-Home. My thinking was this would be an ideal mode of transport, for you simply pull off the road and you've arrived on location.

Fab?

Not really!..

I took along my great buddy Allen to see what it would be like travelling and living in such close proximity to someone. Now Allen has been a friend for decades. He has joined me on many of my adventures around the globe. Although he's not in to photography, he loves the wilds of the Highlands and he has spent months with me up there. Yet while we never fell out in the 'MoHo' trip... even on the evening I came back to the van to find all the water used up and the battery critically low because he'd had an indulgently long shower, then sat back with a book with the heating turned up to 'sauna' setting!.. the cramped conditions just didn't work.

Remember Al didn't have any photo gear. Yet my kit was all over the place. Add to this the sandy waders, damp jackets, wet waterproofs etc. etc., we both agreed it would be too much for the transport and accommodation basis of a workshop tour. Especially as it would compromise the workshop's attraction to my many female clients.

So with regard to 'how', on my workshop tour, I decided to scrutinise my optimum route and then find good accommodation at or close to some of the best locations.

As for 'where', I knew a few parameters. I needed to include Ardtornish Estate in the experience because I love the place. Over the years I have kindly been afforded privileged access to remote bothies that were in unbelievably spectacular locations across the stunning estate lands. Yet these basic 'lodges' took at least half a day to reach by boat or amphibious vehicle. They had no running water, beds, (ceilings in some instances), or loo facilities. So this would impact timings and I could not submit my clients to this safely.

However, I did know I would start the one-to-one tour here. For from here I can give my guest a superb introduction to some of the best and unfrequented highland scenery on the mainland. There are rivers, streams, waterfalls, lochs, beaches, mountains, eagles, otters... in short, it makes for the perfect start. Then from Ardtornish the route would progress in a seamless adventure through the best scenery and spots I know.

With all this in mind. A couple of weeks ago I took my Father on a trip I had spent months planning.

As a bit of background, my Dad was in the Royal Navy and stationed in and around Faslane on the Firth of Clyde during WW2. Later on, he and my Mother holidayed in the Highlands a lot throughout their married life. Indeed they introduced me to Scotland on a family holiday when I was 9.

So my thinking was based around showing someone, who thought they knew "the Highlands", some utterly new and completely different aspects.

Starting off outside Fort William, I charted a winding course that skipped around the tourist trail and avoided the 'usual' photo locations so often seen in the photo mags. For 9 days we travelled across Morvern, the Inner and Outer Hebrides, the North West Highlands and The Summer Isles. I linked my known locations, sought out accommodation, and in so doing, I found many more. So alongside meeting some lovely, hospitable places, I discovered some absolute photographic gems... And my Dad was simply beside himself! "I have never seen places like those" he said "let's go back next year!"

On the tour we experienced stunning early summer colours in glorious sunshine. At one point, high in the Achnashellach Forest the temperature hit 27 degrees! This was an unprecedented experience for both of us. While this was ideal as we were trying out the route. For my photography, the lack of water in the rivers, waterfalls and streams did restrict that aspect somewhat. But that is the unpredictability of the Scottish Highlands and Islands. And the lack of water was more than made up for in some other areas, such as impossibly blue seas and skies. You can view my images from the trip in the 'Summer Highlands' gallery of my photography website. Just head back to the home page and click the link that is there.

So there we go! If you have read this far, then I guess you might be fascinated by the prospect of such unique experience and interested in coming along.

So let me tell you my thoughts.

Firstly, my Highland Loch & Seascapes Workshop will work best if you have already been on one of my Cornish Seascape Workshops. You know me and I know you a bit. You know how I do things and what the basic premise surrounding my photo courses is. My first courses running in Autumn '19 are already booked. So my 2020 spots are open to any previous client.

That's not to say that any experienced photographers who are 'manual' settings capable and happy to chip-in on having a throughly enjoyable, yet demanding photographic experience, would not be welcome! Get in touch and let's have a chat.

I am offering Highland Loch & Seascapes trips in early Spring and late Autumn 2020. As I say, this exclusive course is a 'once in a lifetime' experience. It will be hugely rewarding but by it's very nature and the fact I am doing this on a commercial basis, as well as for the absolute love of Scotland, it does mean that the price is not cheap.

So if you want to know more, get in touch through the Contact Me section of this website or email me directly at chris@c-simmonsphoto.co.uk and let's make some plans.
A Bird's Eye View
04/02/2019
With Google incorrectly displaying our location, I needed to put us on the map
When it comes to advertising and building business, Google provides a really important service. With so many potential workshop clients using this search engine to look for photography courses, it is vital I have a presence that puts all the right information in front of them. So they can see what makes my courses stand out from all the rest in terms of quality content, experience and tuition.

An important 'USP' is my all inclusive, residential aspect. Clients come and stay, for two to five days, to immerse themselves in a course that focusses around putting them first. So actually seeing where they will be staying and getting an idea of the accommodation is vital. And this is where Google are letting the team down.

For although it was built back in 2011, Google have yet to update their maps to include the Tara Vale development where I live. So on my business home page, their system displays a property in an adjacent road. This is a cause for concern, as the picture is misleading and Tara Vale looks like it does not exist. Yet after months of trying, I have so far been frustrated in getting Google to update their Maps.

So when I mentioned this to workshop regular, Sean Driscoll, he kindly brought his drone along on his latest stay. On a clear, calm January afternoon, he sent it up high overhead and captured an image that really puts us on the map.

I have circled our house and you can clearly see for the first time exactly where we are, and just how close we are to some of the most picturesque coastline in the UK.
"I Am Blown Away!"
26/11/2018
Andrew shoots a sundown on Crantock ledge.
As a very accomplished photographer, it was good to get Andrew Snowden's views on his 3 day workshop...

Dear Chris & Sam,
Thank you, both of you, for a spectacular three days. Your hospitality was much appreciated. I felt at ease from the start, a great help in combatting the initial nerves when embarking on my first ever photography workshop.
Now reviewing the images I am still blown away by the quality. Your local knowledge brought me to the perfect locations at the right time for tide, wave height and light conditions. I very much appreciated your teaching style. You were not crawling all over me. Your approach seemed to be more on the lines of 'If he looks comfortable with what he is doing, just give a few guiding hints and let him get on with it'. But you were always on hand for advice. This led to an even greater sense of achievement when I did get it right, and the opportunity to learn from the mistakes when we were back in the studio. The shoots have resulted in me having far more confidence in the use of my equipment, filters, flash etc. The use of flash in daylight was a revelation to me!
Back in your studio, it was interesting to see your approach to post-processing. I am not sure I shall be able to wean myself completely off Lightroom as my import, cataloguing and raw conversion vehicle, but you have certainly persuaded me to make greater use of Photoshop thereafter. In particular I look forward to reworking some of my earlier raw files with your bespoke post processes.
All in all it was an invaluable three days. Also it would be remiss of me not to mention the outstanding food provided.
Many thanks and best wishes to you both,
Andrew Snowdon
Four years in a row
26/11/2018
Ian shooting a superb Holywell sundown
For a fourth year in a row Ian Brennan, an accomplished photographer who has travelled the world on various workshops, came down to see us in Cornwall. Here's what he had to say...

"I travelled over to Cornwall and completed my fourth workshop with Chris in October. The trip included a mix of new and existing locations (the existing ones I was delighted to visit again to work on improving my seascapes). The accommodation and food were, as previously, the best you could expect. I have continued to learn with Chris, and all aspects of my photography have benefited from his advice. I cannot recommend strongly enough to other photographers, if you want to develop at your craft, both the image capture and the post processing, then this is the course for you. Once again, I sought and got Chris's help in printing and went away with 9 fantastic Cornwall images, all captured in the workshop. When I went home, within two weeks, 4 of them had disappeared to friends who had previously asked for a seascape image."
You're Never Too Old
14/06/2018
At 82, George Hodlin, an experienced photographer and regular workshop attendee, proved you're never too old to pull on a pair of waders and get involved down in the tideline. Here's his review of his 3 day Workshop with 2 added night's B&B to aid his travelling times from his home in Leeds...

Hi Sam and Chris,

I felt my goodbyes were all too hurried and inadequate. What I meant to say was that your welcome, hospitality, meals and care were truly amazing. I could not have expected any better and I felt completely relaxed and comfortable in every way.

Chris, I thoroughly enjoyed our field trips, despite the in different weather, and I thank you for the insight into your manner of seascape photography. The places we visited were, obviously, most suitable from an access point of view and photographically. From now on I shall approach Seascapes in a new light, excuse the pun, and I am already following your excellent Post Processing technique. Thank you also for disclosing this.

I fully intend to return as soon as I can and will keep in touch.

Thank you both so much, again.

George
'Opening Doors'
23/04/2018
Published photographer Marlis Rawlins came down for a 2 day stay. Here's what she thought...
Dear Chris and Sam,

Just a quick note to say "DANKE" for a most terrifically good time with you both.

I learnt such a lot and want to continue with RAW and Photoshop, so I will be looking toward getting it downloaded very soon. You opened a new door in photography for me - I am thrilled.

Thank you again for your generously given help, it was THE best course I have ever attended!

Best wishes,

Marlis
"The Best"
09/04/2018
Peter Thomas is an experienced photographer and well-travelled workshop attendee. Here's his review of his 2 Day Cornish Workshop course he did with me...


Hi Chris,

Just wanted to say and big thank you, to you and Sam for your hospitality and making my stay in your beautiful home so enjoyable.

As you are aware, over the years I have been on a number of workshops and yours is by far "the best". The opportunity to photograph hidden coves.etc. Then spending quality time in the studio, really making them "Pop" (as you say) in Photoshop is unique!

See you again soon,

Cheers

Peter

PS. When is a good time of year to book a second trip, big seas etc.?
Making A Show Of Ourselves
21/03/2018
As the Seascape workshops approach the fifth year of operating, it was time to reach out to wider audience and spread the word as to what makes this course completely different to any other. So when I was approached by the event organisers, the idea of appearing at The Photography Show 2018 seemed like the ideal opportunity.

After having worked out what sort of space I would ideally want and looking at the budget, I checked out what we would need to produce. I decided on a simple 'pop-up' display with two roller banners to fit inside the shell stand, alongside a couple of A5 leaflets to hand out. I then went about creating the artworks and sent everything off to production. I have to say a big thank you to XL Displays for the cracking job they made of printing and producing the stand graphics. It goes to show that a budget doesn't have to be big to make an impact. When in place everything looked really good and created exactly the right impression. Eye-catching, memorable, professional but not off-putting in terms of making us look like an overly expensive proposition. Once the spot lights were switched-on, the colours really 'popped' and I was very happy with our presence.

The show itself was really good for us and Sam and I got to speak to lots of prospective customers. We didn't want to throw leaflets at every person who walked by, but when someone took a second look we did try to strike up a conversation. The first part of the sales pitch was pretty easy as Cornwall sells itself. But as soon as we mentioned shooting the dawn on the south coast and the sunset on the Atlantic Coast with post-processing tuition in between, the concept really caught people's imagination.

We also had lots of great feed-back from other professionals and fellow exhibitors. Even a couple of the other workshop operators came over and complemented us on the stand. It was also good to hear from the visitors that many had seen our press advertising, it's excellent to see everything dove-tailing together. It was also great to catch up with the many workshop clients who dropped by for a chat and during some busy spells they got busy in helping pass out the leaflets!

Professional motorsport photographer Carole McClatchie, a wonderful lady who has visited a couple of times to learn RAW processing and Seascape approaches, to extend her exhibitions, made a great pitch to a stand visitor and I think she may have got a sale! Steve Hammond, a lovely guy and exceptionally talented amateur photographer who is coming down again this November, did a superb job of reassuring an interested couple that they would be making a good choice. Tony Teague who was down with us a few weeks ago for the first time, was kind enough to bring along a colleague from his photography club who he believes would enjoy the course. And in the article image you can see Bob Walsh, a three time workshop client and true 'bon vivant', spreading the word and leaflets for us. So we could not have wanted a better sales team and I have to say a big thank you for such wonderful support. The biggest praise though has to go to my darling Sam, who came along to support me and did such a stellar selling job, really engaging people with her bubbly vivaciousness. What a star!

The show ran over four days, Saturday to Tuesday, and even the snowy weather didn't seem to deter the visitors. Each day saw us making lots of excellent contacts. Upon returning home, I went back into the studio to find over 30 emails from show generated enquiries. So it all looks promising and I had better get busy answering them!

So let me say in closing, if we did get to speak at the show, thanks for listening. If we didn't but you saw us and want to know more, then please get in touch. Overall, if you fancy coming down to Cornwall, to stay in comfort and learn loads as you photograph some of the best coastline in the UK, do please go to the Contact section of the website.

We hope to hear from you soon.

Chris & Sam
An Addictive Approach
13/03/2018
Here's Rosie Collin's account of her 5 day course.
Hi Chris,

A huge thank you for showing me such an amazing time. I can't believe just how quickly it went... There must be a way of bottling your essence as your approach to seascapes is so addictive! Not too much to scramble my brain but enough to stretch me!! I've returned home fired with enthusiasm to sort my pictures out. I have now downloaded Photoshop CC and the computer is now tackling windows 10 ...So I've started.

I didn't quite know what to expect when I booked your workshop, but I wanted so much to improve my photography. So to start 'joining the dots' from the practical side, the manual handling and filtering was fantastic. I really appreciated the amount of research and planning that goes on before each trip to make it seamless ...Then to the computer sessions... which I never thought I'd manage... You said that I would do it... and then by the end of the week I did!!

Now that you've switched the light on with my photography I can't wait for the next trip...

Your hospitality was second to none... your cooking was delicious (it's given mine a wake up call!)

I'm looking forward to seeing you and Sam again very soon for the next one...

Rosie x
Greetings From Dusseldorf
13/02/2018
Herbert Pfennig came over from Germany for a four day course in early February. Here's his review...
Looking back at my stay in Cornwall Chris, I'm still surprised at what I experienced and what I could learn. Of course I'd high expectations. Your website is very promising and I have studied many images by British landscape photographers. I was dreaming of owning photos which are at least a little bit similar.

We had 4 days together. It was a perfect mixture of introduction to your philosophy and technique, as well as photographing at a number of stunning costal locations and processing the images in your perfectly equipped studio. Up to now I'd just a shallow experience of Photoshop and had never worked with a computer from Apple. On our location excursions I also learned a lot about using filters. Particularly your instructions to use ND and ND grad filters, choosing the perfect aperture and exposure time lifted the quality of my images to another level. I never thought that this was possible so fast.

The next surprise was working with you in the studio. The work flow you've showed to me is simply spectacular! Sometimes it was hard to believe that I took the pictures myself. So I tried it again, immediately after my return at home. Of course I used the notes from our sessions, but it worked perfectly. The workflow you've showed to me is logical and not complicated. I can now reproduce it myself easily.

It was a great joy to spend the days in your house. Accommodation was very comfortable. I enjoyed so much the hospitality, you and your wife Sam rendered to me. It was like visiting good friends and the food was so delicious. During your cooking we had inspiring conversations and I was also impressed by the miracles you can do not only in photography but also in the kitchen.

Hopefully, there is a chance to visit you for another workshop. We photographed in wonderful locations and I'm sure you know many more interesting places. Apart from this, I hope that we can stay in contact. I consider it as a gift to have had the opportunity to meet people like you and Sam.

Best regards from Dusseldorf

Herbert
A "Unique Experience"
13/10/2017
A view from a workshop 'veteran'
Frank Cartwright is a keen photographer and has been going on workshop for over 20 years. He has had One-to-One's and been on group workshops with some of the biggest names and set-ups in the UK. Frank came down with his partner Di for a 3 day workshop with a couple of night's B&B added on to extend their holiday. Here's his review...

"Before and after retirement I have been on many home and overseas group photo workshops, but have never experienced a workshop like that provided by Chris Simmons. Nothing was too much trouble. From the arrival moment until departure we received 100% of his attention, From dawn to dusk it was seascape photography, often to remote and unusual locations, punctuated only by his excellent home cooked meals and photo editing sessions. I wholly recommend this unique experience."
A Kindred Spirit
03/07/2017
"...my passion for photography and the coast was being rejuvenated"
Hi Chris,

I hope the workshops are continuing to grow and I'm sure you have no shortage of clients. I wanted to get back in touch to say a bit about my time I spent with you back in February.
As I told you when I booked, I had never attended a photography workshop before. I did look into the possibility of going on one, but all the adverts I saw, whilst offering amazing looking itineraries in great places, seemed a bit corporate and impersonal. Having a history of depression and anxiety, I wasn't sure this sort of thing was for me and so I had shelved the idea. That was until the morning I opened up my copy of Outdoor Photography and my eye was drawn to your advert. It was different in that it offered a One to One focus. As I read through the ad and looked at the images, I began to think this just might be for me! I showed April the ad and she too thought it sounded great. So an email was sent and a prompt and friendly reply was received! I duly booked a 3 day workshop. I was sent a comprehensive information pack that had loads of helpful information. With every communication I felt more at ease and sure I'd made the right choice. A few days before my workshop I received an email with some final check list info and then I was off to Cornwall!
When I arrived, I have to say I was apprehensive about the prospect of 3 days of photography tuition. Would I be good enough? Would I make a fool of myself? Yet when you opened the door, you immediately put me at ease with your friendly manner and warm welcome! Once settled in to my lovely accommodation, it was in to the studio with a coffee for a chat and a run through of my itinerary. It quickly became obvious that you had put a lot of effort in to coming up with a programme that would best suit me. You told me I would be working hard as the days were long and action packed! Your passion for photographing the Cornish coast was immediately obvious and I started to relax and get excited about the coming days.
We then headed down to Crantock beach so you could see how I handled my gear. I was nervous, but you put me at ease. As I set up and started taking pictures, you gave me guidance and encouragement. From this moment on, my passion for photography and the coast was being rejuvenated. I need to mention as well that your suggestion to try a pair of chest waders (so I didn't need to worry about getting my feet wet) was great and they really helped change my approach to composing my shots.You talked through shutter speeds and depth of field but the most important thing you said was about looking at what was in front of me and really seeing what was going on! I quickly became absorbed in the beauty of the sea and in trying to capture some of the emotion I felt in my images.
Then we went back to the studio to review my pics and for my first editing session. You gave me a good, clear workflow to follow, but the most important important lesson was how to use Photoshop to enhance what I felt at the time of taking the image. It wasn't about whacking everything up to the max, but rather about refining my image to replicate what my eyes saw when I pressed the shutter.
Then it was off to shoot the sunset. The amazing scene in front of me was constantly changing and again I felt myself becoming totally absorbed in the process of creating images. It was wonderful! I was feeling a creativity flowing in me that I didn't realise existed! All the time you were encouraging me and giving the heads-up when a likely looking wave was approaching.
Then it was back home for something to eat. Chris, your culinary skills are as great as your photographic ones! It was like dining in a posh restaurant. Every meal was amazing!
After supper it was back to the studio to review my images. Hmmm did I really take over 600??!! You showed me how to rate them and then we worked on a couple before my brain gave up and it was time for bed!
5am the next morning and it was up and out for a trip to the south coast for sunrise. During the drive we chatted about all sorts of things and I felt so at ease. We arrived at the location and set up. I had the waders on and gradually moved further in to the surf. I became so immersed in what I was doing that you had to 'rescue' me more than once! This shoot was one of the most amazing experiences I'd had in a long time. When we'd finished, you then proceeded to cook the most amazing bacon butties on a stove in the back of the Land Rover!
These are memories that make me smile now as I'm typing!
Then it was off to several other locations. Each time you gave me guidance, but room to discover my own compositions rather saying "point your lens there... do this.. shoot that". This workshop wasn't just about f stops and ND grads, it was about learning how to create an image that could transport me back to the moment it was taken. The studio sessions of post processing revolved around the same premise and it was great.
The 3 days were all about me! You took me to amazing locations, kept me safe when I became overly absorbed in the process, encouraged me and made suggestions on how to improve. The overriding feeling by the end of my workshop was that of two kindred spirits getting to know one another. I left Crantock not just a better photographer, but a more fulfilled person.
But all of that was four months ago.
A lot of water has passed under the bridge (or waves on the shore!) since then. Where am I now? Well I didn't spend every waking hour out taking pictures. However, the changes that occurred back in February were lasting and everywhere I went, I was seeing things I'd not noticed before. Crafting potential images in my mind's eye.
In May we had our family holiday in North Wales and we stayed near the coast. It was as if you were with me Chris! I'd be taking pictures and I could hear you saying "keep your filters clean!" Or "don't forget to look behind you"! I captured some images I was pleased with, but more than that I came away with powerful memories of being out in the midst of amazing beauty.
Another thing that happened while I was away is that I finally decided to join YouPic! Chris, thank you so much for the suggestion. I feel comfortable on the site. I have gradually put up quite a few pictures, and I have had a warm welcome. I have people following me and I am following others without it feeling pressured.
The other piece of news is that I'm typing this missive on a shiny new iMac!!! I'm blaming you as I was blown away by using yours! I have the 27 inch 5k screen and it is mind glowingly amazing!
So I think that is about it.
Oooo no it's not! I almost forgot, April and I have booked a cottage in Crantock for a week at the end of November as I'm going to be 60!! If you and Sam are around it would be brilliant if we could pop round and see you both.
Now I think that's all!

Take care you two,

With best wishes

Steve
A view from across the Atlantic
11/05/2017
Claudette Devereaux came over from Long Beach in California for a break from a highly pressurised job and to expand her seascape skill set. Here's what she said...


Dear Chris,

I can't thank you enough for such a wonderful vacation. Attending your 5-day Seascape Workshop of Cornwall exceeded my expectations. My photographs are stunning, if I say so myself! You actually tailored this workshop around me. In my work as an Emergency Room Supervisor, I'm under tremendous stress. You provided me with beautiful scenery, adventures and hiking-- just what I needed to relax and reclaim my 'chi'.

Chris, you are the quintessential photographer! You eagerly shared your extensive knowledge of filters and Photoshop techniques with me. I'm no longer intimidated!

The extraordinary hospitality from you and Sam, hasn't gone unnoticed either. Your incredible culinary skills tantalized my palate daily. Rest assured I've shared my experience with practically everyone I know.

Until next year!

With Love,
Claudette
A Detailed Workshop Review
21/11/2016
After his 3 day workshop, Dr. Richard Paterson gave a very detailed review of his time spent down here...
As an enthusiastic amateur principally photographing around and about the South Downs National Park, I have long hankered after the chance to do some Seascape work particularly in a dramatic and beautiful location such as Cornwall. So Chris Simmons' Cornish Seascape Workshops advert in Outdoor Photography really caught my eye and as soon as I managed to get a few days free time, I made a booking.

What was I looking for from this experience? Firstly, to empty my head from the day job and enhance the hobby I love. Secondly, to explore what could be done 'in camera' using Manual mode. Finally, to sort out the mess I had got myself into with Lightroom and Photoshop!

On all these points this course hit the jackpot for me.

From the moment I arrived, Chris made me feel welcome and at ease. The accommodation was beautiful and very comfortable with the added delights of some great food prepared freshly by him every day.

The excitement of going off to a dawn shoot and arriving at a location in the dark followed by watching the scene unfold as the sun rose was truly an uplifting and absorbing experience. Chris' local knowledge of matching the best locations with the tides and weather conditions was invaluable and despite some testing weather over my 3 days, we had some exciting and dramatic shoots in some beautiful, deserted spots.

Now that my head was cleared, it was time to concentrate on the camera. With the accent on stopped-down apertures and varying exposure times to capture the dramatic movement of the waves, Chris' instruction was clear and at the precise level that suited me.

Discussions surrounding elements particular to Seascape photography were very useful including taking into account aspects relating to composition; the sky, geology and dynamic movement in the sea - all quite different from 'standard' landscape work. The concept of using the camera to its full to capture an honest image of the subject as you saw it was a strong theme in the days I spent with Chris. I quickly learned this ethos linked in well with the lack of need to change images to any great extent in Photoshop.

Speaking of which, Chris managed to turn the way I process images on its head. We spent a great deal of time in between shoots and in the evenings in his studio, going through a very clear post-processing workflow process to get the best out of my images. This aspect of the course was both invaluable and fascinating. Going against my usual temptation to use every button and slider available, Chris taught me 'less is more' and my images were so much better for that. I have some lovely shots from my trip to Cornwall and quite a few more to practice my new skills on!

All in all this course is a rare find. Chris pitches his teaching to your skill level so you always feel comfortable with your instruction. The whole experience was uplifting, relaxing and fun. Chris and his partner Sam's hospitality, great conversation and humour made for a lovely stay in Cornwall. I'm sure I will be back again for a second visit.

If you are looking for a great photographic experience at any level, I would strongly recommend this great package.

Dr. Richard Paterson, West Sussex
A Professional's Perspective
13/05/2016
Carole Mclatchie is a well known face on the world's race circuits. She fancied a breath of fresh air and a new challenge so she got in touch. Here's her review of her time spent down in Cornwall...

"As a Motorsports photographer, I wanted to leave pit lane noise and press office pressures aside for a while and to take some time out with my camera. I needed a new discipline to challenge what I do, while still being in the open air as I love the outdoors.
Landscape photography it was then, but where to start out? Attending a course would be the best introduction so I looked at a few photography magazines and 'googled' the various courses on offer.
Chris Simmons' Cornish Seascape Workshops caught my eye as Cornwall is one of my favourite places. His workshop website told me what I needed to know (but check out his photography website to see a bit more of his work). The one-to-one bit and a bespoke programme was ideal for me rather than a group session as there were specific things I wanted to learn; in particular shooting and processing RAW images. I've spent my career shooting jpg's and trying to get it right in the camera; only using the very minimum of processing in Photoshop, often with the final processing being done by an Art Department of a magazine. So when venturing into this confusing 'maze of Layers', a personal guide sounded ideal. The bed and breakfast made sense too, particularly because of the early starts, and meant that I didn't have to book separate accommodation, and any concerns about staying in a stranger's house were soon put to rest when I read his reviews. So I gave Chris a call, and that was it. We immediately got on and I booked.
I'm so glad I did as I had such a great time, even though he got me into the most unflattering pair of waders imaginable!
Out on the racetrack I look through the viewfinder to catch something I know is going to happen. Yet here I was on a beautiful beach watching clouds converging, waves breaking, light reflecting, sun setting, water receding, rocks sparkling, sand shining. There was just so much to process in trying to balance it all using Chris's compositional technique that he had explained in the pre-shoot briefing. Pressing the remote release at that split second to catch "The Moment", as he calls it.
I had fun using different Manual settings on my 1DX, wide angle lenses and a selection of filters, fill-in flash, tripod handling (…not my forte as I am only used to a monopod or hand holding a camera), precision horizon levelling and cable triggers. It all made for a completely new and thoroughly exciting experience.
Manual focussing!... Really? I had only just got started reading Canon's massive on-line Auto Focus guide for the 1DX! So I wasn't convinced to start with but manual focus certainly works well for Landscape photography.
Then we went in to the studio and opened my RAW images on a huge Mac screen and I was amazed before we had even touched Photoshop. Yet once we had worked on the very first image I was a RAW and Photoshop convert. The textures in the rocks, the sky's detail, the sea's flow, the reflections, the sharpness, the colours, all looked fantastic yet so natural. Just as I saw them….as I am not at all keen on overly 'manipulated' images. The process's versatility was simply incredible! So I am definitely a convert to shooting in RAW!
I took lots of shots… must be something to do with being a sports photographer… and I am so glad I did. For when I saw how many 'keepers' I'd got, I knew my new website and next exhibition would have some great alternative content.
So from a photography point of view, Chris's Seascape workshop was a complete revelation. A huge step beyond what I thought Landscape photography would be and his passion for his art is totally infectious. I had a great time and learnt a lot in short space of time.
From a personal perspective, I had a really relaxing time (not counting the 3.15am alarms) in very comfortable surroundings with Chris and Sam's welcoming hospitality and fabulous food.
So overall, I thoroughly recommend this one-to-one course to any photographer who wants to discover an incredible world of Cornish Seascapes."

Carole Mclatchie
FBIPP ARPS

www.carole.mclatchie.com
"The most amazing photographic experience imaginable!"
05/05/2016
A glowing review from a very happy customer
It's always great to get really positive client feedback. It offers the ultimate professional reward alongside providing the best way to advertise a business. In the three years I've been running my one-to-one seascape workshops, every single one of my clients has left Cornwall with an impressive body of work (that by their own acclamation has extended their craft), a smile on their face and a kind word. Knowing I am always keen to promote my business, they often they write to me and kindly let me publish their words in this blog.

So here's a review from Paul Henniker, a sprightly retiree who saw one of my first magazine adverts back in 2014 and cut it out and kept it. A couple of months ago he got in touch and booked to come down in late April 2016. It must be said that he did witness an ideal range of weather conditions. The first dawn he was standing on a remote surfline in a pair of my chest waders, shooting a serene golden sunrise. The last evening he was in his waterproofs, wedged in a rocky cleft on a sleet-battered cliff, shooting an Atlantic storm. And there was much more in between so this went a long way to ensuring he got some absolutely breathtaking images. Yet he really threw himself into his time down here and reaped the rewards. So with all that said, here's Paul's review...

"Is your photography looking lack lustre? Then perhaps you need to go to a pro to iron out some wrinkles. I did and I have just completed the most amazing photography experience imaginable.

I am an enthusiastic Photographer who likes a good 'landscape'. After reappraising my photography, I decided to jump in at the deep end so to speak and try a few specialised workshops with a professional.

Chris Simmons offers his 'Cornish Seascape Workshops' on a 1 to 1 basis. With no group to get in the way, it is three days of morning, noon and night photography, with RAW and Photoshop tuition to complete the package. Chris emailed me an outline of my personalised workshop itinerary, dealing with the early mornings, late evenings (photographers call them the 'Golden Hours'). After meeting me at the station and showing me my accommodation, we had a review of my gear, ran through his presentation and then we were ready for the first sunset shoot. Chris has a vast knowledge of the Cornish coastline and finds the perfect spot according to time, weather and tides. The photography is 'up close and personal' with the subject. With water lapping round your ankles or perched high on a rocky outcrop, you can't help but be enthused. After all that it's back to the studio to review and enhance the images. Chris has good grasp of teaching RAW and Photoshop post-processing and it took a novice like me only a few attempts to turn out a cracking image.

Three days of this? Fantastic! Go on give it a try, you won't regret it."

Paul Henniker - Greenwich
A message from a happy regular!
01/04/2016
Bob Walsh did his first workshop with me back in June 2014. A proficient photographer looking to refine his craft he was originally looking for a wildlife workshop when he came across one of my adverts in the photography press and decided to give Seascapes a go. It's fair to say other than a shared passion for photography, we clicked on many other levels, such as good food, great wine, the great outdoors and a childish sense of humour! Bob has returned three further times and alongside our building a firm friendship, he is trying to build a body of work that reflects each month of the year down on the Cornish coastline. Bob's photography has really come on and he is now establishing his own business. Recently commissioned to shoot 'Park Run' events he also has images used in a major high street sports-goods retailer. Here's a very kind message Bob sent through...

"So Chris, this note is to say thank you. Thank you for helping to take my photography to levels I could only dream of before I met you. I never thought I'd be selling my photographs – I never thought I'd have a website. If I had to pin point just one aspect of photography that I will thank you for forever it is this: the art of composition – the very first discussion we had in your studio! Still so much to learn but we're getting there.

What I have learnt from Chris Simmons:

- the art of composition
- refining Photoshop post processing
- don't drink his vodka martinis!
- we're never too old to make new friends

Cheers Chris,

Bob
David's Workshop Experience
29/03/2016
A workshop client's review in his own words...
Here's a workshop review by David Hansen from Herne Bay in Kent...

"l have just spent three days with Chris on a seascape workshop, which I have to say was an amazing experience!

Being a keen amateur photographer l had come to a crossroads. I wanted to create better images with more impact, so l knew I really needed to get to grips with Photoshop. And this was all covered completely during my stay.

The food and accommodation were second to none, while Chris and Sam proved to be excellent hosts. Chris took me to some fabulous locations [04.30] early starts were essential so we could get set up and ready to capture the sunrise at its best. The emphasis on timing, location and composition proved invaluable for capturing some great images. Likewise for the sunsets. With images captured we returned to the studio where l liked the way Chris taught using Photoshop only to enhance what the camera captures and not to 'over sensationalize' the picture. l also thought the one to one aspect was excellent, as were the local sausages and red wine!

Thanks again Chris for a great experience."

Dave
14.03.16 -17.03.16
A New Offering
16/02/2016
Extending my Cornish B&B One-to-One workshops I am looking toward new coastlines.
For any business to succeed it needs to keep evolving and refining its offering to attract new custom while re-engaging with existing clients. Since I started my Cornish Seascape Workshops in 2013, I have really enjoyed showing many kindred spirits around the coasts of this fantastic county. I have met some great characters and dedicated people of all ages and experience, who have a real passion for seascape photography alongside an adventurous spirit. During our travels and time spent in the studio, we had plenty of time to chat about my favourite locations and where I'd like to see my workshop business expanding to. Many mentioned the various galleries of my website and said if I ever were to consider running a workshop tour of Scotland or farther afield, they would be happy to book a place. So this got me thinking about a new venture and I am now putting together plans to offer Workshop Tours to my existing clients who have taken one of my workshops.
The reason for this is that they will all know the 'Manual' approach needed to capture great seascapes, they will be able to arrive at a new location and get to grips with it immediately and they will be adept enough with Photoshop to be able to undertake post-production with minimal oversight from me. This is really important as on standard group tours there is a diverse array of personalities, experience and the attention and tuition and advice is not necessarily 'evenly distributed'. My idea is to take clients away that I know and show them an absolute bespoke tour that extends the 'full-on photographic experience' as one of my clients described their Cornish seascape workshop. So I am planning a Scottish Highland Seascape Tour that will take in the Isles of Mull, Skye and Harris alongside a run up the North West Highlands to the fabulous Sandwood bay.
Looking beyond this I want to look towards new locations and decided upon taking a look at Iceland.
So last week I spent a fantastic time with my daughter Meghan (who specifically asked to come on a photographic holiday into the Arctic Circle) and my great friend Allen, who has accompanied me for years on my adventures through the Scottish Highlands, Norway and Maldives. Allen will be a mainstay of the new Tours business as I will need a colleague to share driving, arrange drop-offs and pick-ups and help with the general organisation that goes on behind the photography. Anyway, we landed in Reykjavik amongst a snow storm that kept visibility down to 300 yards, so we had no idea of what to expect. We checked in to a really good hotel on the harbour front and went for supper. As we walked back to the hotel we saw a host of Japanese tourists lining the coast footpath and pointing point & shoot cameras mounted on tripods into the night sky. Taking a look at my 'Aurora Now' app I saw the predicted appearance of the Northern Lights had risen from a half star to 4 stars and sure enough, a few minutes later we were watching these strange greenish lights swirling across the sky. I didn't go rushing back to the room to grab my gear for the display was hardly 'blinding'. In fact it was a little disappointing as after years of waiting, this was the first time I'd seen them. Anyway, we stayed and watched the display until it gradually faded away some two hours later.
We went back to the hotel saying how much we hoped to see something more impressive in the coming days, so you can imagine my amazement when next morning at breakfast I saw some of the Japanese guys passing around their cameras and proudly displaying images of searing colours and vibrancy! It appears I have discovered what few people mention, that the Northern Lights look far better through a camera than they do to the naked eye. Something that was confirmed to me a couple of nights later when we were up in the mountains with no light pollution and I photographed them for myself. OK I could see them swirling around more vividly but the colour and vibrancy that manifested in my camera screen were utterly different. In my seascape photography, I try to capture the emotion and atmospherics of a scene. To me, the realisation that the northern lights we see in imagery are in fact totally different to those we actually witness first hand was disappointing. I'm sure I'll get over this and will pay more attention another time but for now it is Iceland's other facets that inspire me to come back.
Anyway, moving on after this somewhat deflating first impression, the next morning we woke to a bright clear sky and the clearest atmospherics I think I've ever witnessed. You could see for miles and I could hardly believe my eyes. The scenery from our lofted hotel room looked incredible. I called Meghan and Al and we headed down for breakfast before setting off to the car hire office.
And this was where our Icelandic adventure started. We picked up our 4 X 4, maps, emergency mobile phone, GPS gadget and headed off on a tour that I had been put together with a specialist advisor based in Iceland, who took my instructions and aspirations and prepared a route that would see us taking in the big attractions, the geysers, fumaroles, glaciers, waterfalls etc. yet would also take us off the beaten track to discover locations for ourselves. This turned out to be ideal as Iceland is currently experiencing a tourism boom the likes of which has never been seen.
I have to say, in recent months whenever I've heard travel experts talking on the TV or Radio, when asked for their recommendation for the best current destination, the response has always been "Iceland". Simon Calder even went on to say "It's as cheap as chips!"... Well not quite but it was nowhere near as spiteful as our experience in Norway where £8 a pint was the norm and you needed a mortgage for a bottle of wine! So the amount of tourists was quite a surprise and when we set off into the national park whenever we pulled off the road, within seconds a car would pull over, then another and another and I'd be joined by eager camera toting Americans, Japanese and Chinese who had no idea of what I was shooting or how their footprints or shadows were ruining my shots. I spoke to the manager of a farm we stayed on and he said he was fully booked for the next four weeks. The same time last year he had just eight visitors booked for the same period.
So second lesson learned in Iceland was to get out early or stay out late if shooting the main locations. For the tour parties don't stay too long.
I have to say that I really try to impress upon my workshop clients just how important the proper clothing is when shooting a seascape location because it makes all the difference. You must be relaxed and comfortable when shooting. In a seascape situation this is even more important as if you are chilled and uncomfortable you are not going to be paying attention to what's going on around you. Being so close to the sea, this can be more than missing a shot, it can be life threatening! Now I know there's special clothing made especially for photographers that purports to have 'Outdoor' credentials but I've yet to find such apparel that is matched to freezing cold seascape locations and I buy accordingly. For Cornwall's worst weather I use bespoke yachting gear with proper waterproof and thermal capabilities rather than those claimed by the likes of Paramo. So when it came to Iceland, I went for a Rab Polar Jacket (with a thick, treated waterproofed Down filling), over a thick fleece, over Rab waterproof salopettes, over a base fleece, over a Marino Wool vest and long johns with thermal socks, thermal gloves (with finger and thumb flaps that allow free handling of the camera but are quick to cover up the digits thereafter). All this alongside a headband that keeps the head warm at all times that can be bolstered by the anorak's hood when it gets really cold. I did bear in mind the severe limitations an anorak hood places on 360? visibility and only used it when well away from the tideline when on a beach.
All this preparation came in incredibly useful as, my word it was cold! At one stage I was shooting in -14? temperatures with icy blasts dropping the wind chill factor way down further. In these conditions you can't stay out too long but I was able to shoot for far longer than the coach parties. So it was a case of preparation, patience, timing and map reading. Interestingly, I noticed a couple of UK based photography tours were out there and 'following the crowds'. They appeared as we left on three separate occasions. I made a mental note not to do this on my tours!
As each day passed we had trouble pinning down our favourite location as each one surpassed another in a different way.
What can you say about shooting on ice that creaks, groans and moves under you as you shoot the impossibly blue ice of a huge glacier? Or watching a pale yellow sky turn into a searing orange cast to a blood red smear in a matter of seconds as the sun sets over a vast lava field. Or sitting in complete silence as you frame the curves of an ice blue river cutting through purest white snow under an azure sky. Or witnessing the dance of the Northern Lights from a lofted mountain valley surrounded by snow covered mountains. Or watching the most fearsomely powerful waves rising and crashing onto black volcanic sand. I have seen impressively huge waves in Cornish storms but nothing compared to the chilling, murderous beasts that savaged that beach that afternoon. The tideline was a boiling cauldron with wave upon wave breaking in a thunderous foaming cacophony that shook the very ground under foot some hundred yards away. Truly spectacular.
As for the imagery, follow this link by
clicking here
to be taken to my dedicated photography website and go to the Iceland gallery in my Portfolio section to see the images I took on this unbelievable trip.
Oh yes, and if you'd like to get involved in a holiday tour then get in touch to find out about the first step, and taking one of my seascape workshop courses.
Outdoor Photographer Of The Year award 2015
16/11/2015
After entering (and winning) two Cornwall-focussed photographic competitions in the last few years, I thought the time was right for me to broaden my horizons and go national. So earlier this year I put some images forward for the Outdoor Photographer Of The Year award. Running through my image library, I laboured for ages trying to 'see' the pictures through a third person's perspective. Putting the heavily filtered long-exposures and freeze-frame captures aside, I picked those that I felt really captured the remote, rugged beauty alongside the atmosphere of the moment. After all, this is the key aim of my seascape photography.
I sent off my entries and sat back with a feeling of trepidation as to wether I'd selected the right images, alongside a certain amount of resignation knowing that now there was nothing else I could do.
The 'OPOTY' attracts the very highest level of interest and entries from UK photographers, so you can imagine my delight to receive a notification that I had three images shortlisted to go through to the final. I was truly elated and buzzing about on cloud 9... right up until I noticed the detail in the email saying closing date for uploading my hi-rez imagery was the previous day! Through my location work I had been away from my email for a couple of days and had not seen the notification.
On the up side this meant I didn't have to worry about keeping the news to myself during a strict 3 day announcement embargo, yet it sent me into a flat-spin of panic as I tried to get the Tiff image files, caption info and mechanical details together. Anyway, I managed to get everything uploaded within a few hours and contacted the organisers to relay my profound apologies for my tardiness... So now all I can do is keep my fingers crossed that the images will be accepted and forwarded into the final.
Interestingly, the judges shortlisted three images that were taken at the same location. Kelsey Head is a large rugged promontory that separates Crantock and Polly Joke Bays from Holywell Bay. This is a regular haunt that draws me and my cameras time and time again. Perhaps this is because from my desk I only need to turn my head to look out the studio windows and see what's happening to the sky above this stunning headland. Perhaps it's because it has prominent coastal features and a wave break that works perfectly in a wide angle lens. Or maybe it's because it has a unique rock strata that sees shards of quartz shooting through a micre-rich slate. This combination literally shines in direct sunlight and readily reflects the bounced light of infill flash. This lighting technique is something I regularly use in my seascapes to give balanced foreground detail and textures without reverting to HDR post production jiggery-pokery. An important part of my work is to create imagery 'In Camera' with only considered refinement in Raw and Photoshop. As to the rocks, my darling partner Sam's brother, Zac, is a top mining and tunnelling engineer. He trained down at the mining school in Cambourne and went on to lead the Cross-Rail project in London and is currently overseeing drilling the tunnels for the metro in Riyadh. Zac's knowledge of geology is truly amazing and walking the cliffs with him is a real eye-opening education. For instance, who would ever guess that just down the coast at Bedruthan Steps you can find a rock unlike any other found anywhere else in the world? Zac's explanations as to what incredible forces and furnaces forged the Cornish coastline are hugely enlightening and his observations on the rocks of Kelsey Head form the basis of what I've related here. Anyway, I digress. Kelsey Head is a superb location that features strongly in my B&B Seascape Workshops. A number of my clients have captured some really good pictures here and many who return for second or third visits always ask to head there to shoot the sundown. Another point of interest is that the images were all taken in the Winter. Obviously the judges agreed with me that Cornwall's coastline looks great at this time of year.
Catching Waves - A Seascape Photographer's viewpoint
03/11/2015
The extended text of an edited article appearing in Outdoor Photography's 2016 Holidays & Courses Guide
The sea conjures an elemental dynamic that, in my view, sets Seascape Photography apart from the over-generalisation of 'Landscapes'. For from tempestuous lashings to lapping caresses, the sea's expressive fluidity is uniquely demanding when successfully interpreting its ever-changing moods with a camera. In the viewfinder, its colours, textures and reflections constantly evolve as the light changes or the weather closes in. Yet show patience. Study and respect the predictable unpredictability. Get your approach, settings and timing right and you can reflect the emotion in the scene that is playing out in front of you and start 'catching waves'.
When going out to shoot a landscape there's the season, time of day, weather and location to consider. If land-locked water is involved - i.e.. lakes and non-tidal streams and rivers, it's fair assumption that its state will remain relatively constant. Yet on the coast, alongside the previously mentioned considerations, you have the added dimensions of the ebb and flow of the tide and the advance and retreat of waves. Not only fundamentally changing the content and composition of a shot, but always keeping the ambient lighting conditions in a state of flux. This constant change demands total respect and attention in terms of personal safety while at the same time presenting a challenging dynamic to set the adrenaline pumping. Then there's the coastal surroundings that offer such a diverse range of locational interest. From vast reflective expanses of sand, serene estuaries and creeks, towering cliffs or rugged, rocky headlands, you can select the surroundings that compliment the sea's state. Add to this the coastal fauna, geology and features and you have a vast textural palette to draw from.
Then there's the comprehension that Seascape Photography is governed by two fundamental truths.
i) The first is Light; understand the ramifications of how compared to land mass, a large body of water reflects more light. Scudding cloud will mop-up more radiated light yet their undersides will reflect more 'bounced' light to radically change the overall lighting levels (and sea colour), while dawn and dusk 'Golden Hour' levels will rise and fall exponentially. Keep working at your seascapes and pay attention to what's going on around you and in time, an inner-sense will tell you when the light is just right to freeze a wave, catch swirling motion or add ethereal ghosting.
ii) The second; accept the fact that the tides will eternally move the goalposts and Seascapes become a challenging and exciting photographic adventure.
It's all about understanding and anticipating what could be about to happen. A rolling breaker can add a cornerstone to your composition, yet it's foaming wake will send your metering see-sawing. You must watch closely and balance the action. For amongst the cacophony of crashing waves and flying spume there will be an order. And just as good surfers 'read' the sea to catch the big break in and use the lulls to paddle out, you can learn to time and prepare for when the big breakers will present impressive rollers and clean lines. Learn to anticipate their arrival and embrace them in your composition. Make the sea work as an integral part of your image. Be pro-active in preparing for a shot but never underestimate its fickle moods.
Always know exactly the state of the tide and beware of the big wave that could take you unawares. Check tide tables and refer to Sun, Sea and Weather Apps - I mainly use UK Tides, Sun Seeker, The Photographer's Ephemeris and Magic Seaweed - to make your choice of location. Read the conditions and never over-extend your physical capabilities. Always remain comfortable and in control of your shoot. You will not get good photographs when you are nervous or shooting in a strained posture. Keep safe, warm and dry. I use chest waders to really get into the surf-line action on a beach but I never go too deep, constantly monitor the waves and shift my feet, or knees, to ensure I don't sink too deep into the sand. Likewise I will climb rocks and scale cliffs, but I am slow and methodical in my actions and have had proper training (from the Snowdonia Mountain Rescue team) and wear appropriate gear.
Then there's camera approach. It has to be mounted on a tripod. Composed, solidly set in readiness, preferably with a remote trigger. Aside from further reducing camera shake, this frees you to raise your head and scan the scene, spotting the next big set of waves or break of sunshine through the clouds, ensuring you catch the action. I always use Manual setting for camera and lens. Mid-ground focussing with lower ISO and tighter f-Stop will retain crisp detail through the image. Consider ND filters and grads to gain a slightly longer exposure and instil foreground motion while accentuating texture in the sky. Maybe even punctuate an incoming wave with a burst of bounced second-curtain flash to bring the crest to a sparkling full stop in front of the lens. Just a few options from a whole range of techniques that I continually try to expand and extend.
For me, the sea engenders a tremendous spirit of freedom that inspires me to constantly evolve my award-winning photographic approach. When it comes to shooting my Seascapes the DSLR cameras are creative tools as much as scientific instruments and they need to be set free and experimented with. That's why I moved to Crantock on Cornwall's magnificent Atlantic Coast. Now I am free to roam with my cameras and immerse myself in this vibrant, exciting art form whenever I wish. And it's from my home and studio here that I offer One-to-One, B&B Workshops to DSLR photographers of all levels who want to share in the enjoyment and hone their Seascape skills on some of the UK's finest coastline. To learn to read the conditions, get the approach right and use Manual settings to capture images 'in camera' and then to refine their RAW files through considered use of Photoshop CS post-production.
Eleanor's Workshop Experience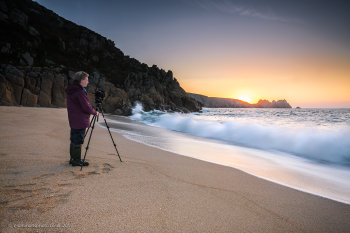 12/10/2015
From energetic adventurers ready to don a wet-suit, stash their gear in a wet-bag and paddle off on the sea kayak, to retirees wanting to use a DSLR for the first time amongst relaxed surroundings, I get a real cross-section of clients on my workshops.

Back in mid September I had a last-minute request come in on my email from a lady based down in Sussex who wanted to come down at the end of the month. Luckily she was flexible on exact timings and we managed to fit in a 3 day workshop around my existing bookings. From our following emails and subsequent telephone conversations, I found out Eleanor was a retired Head Mistress who loved her Canon 7D and was no stranger to photography workshops. With a penchant for wild flowers and landscapes, she usually headed for the Lake District or Scottish Highlands, so this time she wanted a change of scenery and fancied seeing a bit of Cornwall. While she was not worried by walks and high cliffs, she did not like the idea of slippery rocks, other than that I was given free rein to make suggestions as to photographic locations. Early starts did not phase her one iota and she was very keen to get to grips with some Photoshop post-production. As for food, "good, old fashioned home-cooking" was the order of the day. So I made up her photographic itinerary and daily menu and readied the house for her arrival.

As soon as Eleanor walked through the door I knew we were going to click. It's always the case in truth, for when you share a joint interest there's common ground and I've always got on well with all my workshop clients. So we had a cup of tea and a chat, then got her settled into her room. A short while later we were in the studio and running through her gear, then going through my 'Catching Waves' presentation. Based upon a client's current experience, Eleanor was doing the 'enthusiast' level course. This sees Manual camera and lens settings tie-in with using a tripod, flash and selection of filters in a wide selection of challenging locations. The idea being to build a portfolio of work that spans a range of locations and approaches. An important part of my wide-angle 'vista' approach is the attention to detail on composition and I could see from her vigorous nods that Eleanor was really getting her head around what I was saying.

I always finish my presentations with, "Your workshop course is all about capturing a good shots 'in camera' and then refining them in Photoshop... So let's go out and get a good shot!" Thereupon, we head off down the lane to Crantock Bay. Now in the same way different people like different images, so people react differently to the locations I take them to. Bearing in mind it was the middle of a sunny afternoon and there was hardly any detail in the clear blue sky, Eleanor was immediately engaged with what unfolded in front of her. As we walked the beach to the shoreline, she took in all I mentioned regarding the patterns in the sand, converging lines and lead-in information. She really paid attention and was spot-on with her manual focussing, even if it meant I had to wade out into the sea so she had a focal point to hone-in on.

From that point on we had a great time. I kept trying to push her boundaries and she responded by capturing some really good shots. Whether it was in front of pounding breakers that dwarfed her, or walking across the spreading sands of Bedruthan Steps in a pair of chest waders, Eleanor really put her all into her locational work. Soon her methodical approach that was ideal for normal landscapes or shooting flowers, was becoming freer and more pro-active in responding to the ever-changing condition of the sea and sky. This was rewarded with some excellent images. And with extending her existing Photoshop skills, her Raw manipulation results soon saw her exclaiming "I never believed I would ever take photographs like these. Thank you so much!" And this was just the second day.

For me, there is no better accolade, I love it when a client sees everything coming together in their seascape photography. On her final evening, I took Eleanor just down the coast to Holywell Bay to shoot the golden hour. I knew the setting sun's position would be ideally framed between shoreline cliffs and the twin peaks of Gull Rocks. Add to this the heady atmospherics that would see the sunlight being nicely defused into an impossibly scarlet glow and I knew we were going to be in for a treat. And so it turned out. We arrived, set up, composed the shot and we laughed in awed wonderment as the sunset got better and better. From nowhere a bank of cloud crossed the sky at the perfect time to create textures and absorb light. It was one of those shoots that go down in the memory. The results of that evening were captured solely by Eleanor as I didn't take my gear down on this occasion. It's a bit of a slap walking from the car park and I thought it would be best if I carried Eleanor's gear for her. Anyway, needless to say, when we got back home we downloaded her images onto my system and simply marvelled at the results.

While I drove Eleanor around a lot on her first morning, trying to match the difficult bright, sunny, calm conditions with finding a location that would challenge her, she readily suggested heading back to the studio and working on post-production. This was really helpful because sometimes the weather can be too good! Strange to say but overcast and stormy conditions can be ideal for seascape photography, just so long as there's some definition in the clouds and plenty of lens cloths to hand. As it was, her days saw unbroken blue skies and 22 degrees of solid sunshine. So we adapted around this. She got some good shots down on Bedruthan Steps the following day where the high cliffs absorb a lot of light but the studio was where she really enjoyed herself. Eleanor, really got to grips with the processing stages and by the third day we were using all the tools available within the realms of what I consider to be acceptable image refinement. This excludes merging imagery (outside stitching panoramas), dropping in objects or adding skies and anything to do with HDR compositing. Call me old-fashioned but photography-by-numbers doesn't float my boat.

When it came to her final morning, we got together in the studio and spent the best part of an hour trying to choose the single image Eleanor would have printed out to take home. I was happy to see her Cornish Seascape portfolio was really wide-ranging and that her shortlist included twelve photographs. Not bad for a 3 day workshop.

Here's Eleanor's review of her Cornish Seascape Workshop...

Hi Chris

I had a pretty good journey home yesterday considering it was a Friday! The A30 around Bodmin had serious delays through the roadworks which set me back 30 mins or so, but otherwise it was OK.
I've downloaded all my images and copied the Tiff files onto my computer and backed them up so it's fine for you to take them off your system now.

I really enjoyed the workshop and I'll be recommending you to our camera club. Thank you so much for all your guidance and encouragement. I learnt such a lot, came out of my comfort zone and made images that I never thought possible...

The meals were lovely and the kindness and welcome that both you and Sam showed me made the week all the more enjoyable.

All the very best to you both

Eleanor
Hebridean Tour - September'15
29/09/2015
It was a bold move to make the journey in a Land Rover Defender but when my good friend Allen offered his car with a hugely hopeful expression, I had no choice but to accept. He only recently purchased his new pride and joy and he desperately wanted to give it an outing. So with this in mind, I thought it would be a good idea to stagger our trip up country and extend what was going to be a Hebridean tour.

Since I started offering one-to-one workshops in Cornwall, many of my guests asked if I'd consider running workshops up in the Highlands of Scotland, to give them a chance to shoot at the places I have captured in my website's galleries. Now this needed a bit of planning because I would want to do a tour that would take in a lot of the finest scenery the magnificent Highlands have to offer. So, I took out my maps and referred to all the trip notes I had made on my previous travels around Scotland, and put together my 'ideal' itinerary. This would give me a travel plan and then on top of that, I could work out places to stay en route. Ideally, destinations that offered good hospitality amongst lovely settings, so that the tour would be comfortable, photogenic and memorable, yet not cost the earth.

So my plans really started by turning off the M6 at Stoke-on-Trent and cutting across to the Peak District National Park. This is a beautiful region and makes for a lovely drive that links up with the Yorkshire Dales National Park. Later that day, after stopping for a few shots and a nice lunch, we arrived at Tan Hill, high on the Penine Way where the Tan Hill Inn is the highest pub in the UK. Batting midges aside, I went out and shot a stunning sunset and then returned for a welcome dinner washed down by pint of their local brew.

Next morning was a bleak, grey affair that saw hoards of midges swarming over me as soon as I popped my head out the door. And this was early! Way before the usual 'witching hours' that these pesky insects observe. So I grabbed my laptop and went back in to back-up the shots from the previous night. After breakfast we set off for the Isle of Mull with a 5 hour trip ahead of us. Rather than sweeping up and around the spectacular Northumbrian coastline, bearing in mind the car's somewhat 'agricultural' road going capabilities, we decided to head off for Glasgow and then cut across from Loch Lomond to go through some truly spectacular glens and make a lunch stop at the original Loch Fyne seafood restaurant, on the shores of it's namesake stretch of water.

After lunch we headed off for Mull. A short ferry crossing and a drive through some awesome, spreading scenery later and we were at Ardtornish, where we'd spent the month of January back in 21013, and the Lochaline Ferry. Another short hop across The Sound of Mull and we landed on a beautiful landscape of softly rounded hills and mountains, interspersed with areas of remote wildness. We spent that evening and most of the next day driving around, taking shots and making notes. The accommodation was in Tobermoray and we paid the price for having digs right on the harbour. It was a little expensive for a night's stay but the restaurant we went to served up some delicious fresh food and more than made up for the guesthouse charges.

From Mull we went back to the mainland and headed up towards Mallaig. We had an early ferry booked, so we decided to stay close by at a little town called Morar. The hotel was a little tired but ideally placed for us. There's a lovely coastline full of little bays adorned with bright white sand that really needs to be seen to be believed. I shot the sunset from the hills behind the town. This let me get the vast spreading bay looking across to Mull in my viewfinder. The next morning I went to explore the coastline and found some lovely places to shoot at. Then it was breakfast and another ferry, this time over to the Isle of Skye. I've stayed on Skye many times and know of its amazing scenery, so we headed off around to a few of the places in the shadow of the Cuillin Hills that I hadn't seen before. Then we headed off to Uig and the ferry over to Harris.

If Mull is rounded and beautiful, Harris is magnificently brooding. Vast sweeping beaches surrounded by grey rock and steep hills. I love it! We stayed at a superb location on the west coast called Carmicish Bay. A White-tailed Eagle was sitting on the fence of the place we were to stay at when we arrived, so this boded well. This place needs a lot of exploration and a lot of it could be done by boat, or sea kayak, and I made a mental note to include this option in my trips. The stay here for two days was an eye-opener, yet the swarms of midges descended upon us as soon as the breeze dropped, so I also made the note of not coming back in July, August or September! This may be a tad harsh as I have spent a lot of time up on Sandwood Bay in May and June and not really been bothered. Wherever we went, the locals said the midges were the very worst they have been in years. But I have to say, even doused in repellent and wearing a head net, they do put you off from concentrating on capturing images.

Anyway, the following days led us up to Kinlochbervie and Sandwood Bay. The drive up through the Northern Highlands is breath-taking! The ferry crossing saw us accompanied by dolphins and seals. On the land we hadn't seen a single deer until we left Ullapool and headed up towards Cape Wrath. Once on these lonely roads, we saw them all over the hillsides. Our last day was spent shooting on Sandwood Bay. This for me was one of my favourite locations. Yet when we arrived at the car park I saw a tea hut and an extended area for cars. My suspicions were aroused! Going through the gate that leads across the remote glen I saw the path had been worked on. Whereas you used to have to look for its undulating, winding course across the heather, it was now flattened and ready for family strolls. When I reached the bay itself, I was met with a sight I'd seen a couple of years ago in Cornwall after the winter storms had scoured the beaches. Sandwood's glorious spreading sands were now interspersed with big clusters of rock and pebbles. Now I'm not saying this is terrible but it came as a shock. I'd spent weeks here camping and have become used to seeing vast swathes of reflective sands being pounded by crystalline seas. Now it had changed and it took a while to get my head around the new vista before me. As it did with the number of people strolling down the track. Before, visiting here required a fairly spirited hike. Now it saw people riding push biles down the levelled pathway.

I know I'm a bit of a 'recluse' and like to be alone in remote places with my cameras and I know this is, perhaps a little selfish. But my view of Sandwood was a little skewed by what I found. Perhaps in years to come the sand, like it has done in Cornwall, will return and that nature's forces will also see the track returned to a more rugged path that challenges the visitor to really appreciate what lies at its end.

So, in closing what did I learn form the Hebridean Tour?

Firstly, the tour I planned would make an ideal itinerary for enthusiastic, experienced photographers who want to see a wide array of Highland locations in their viewfinders. Secondly, the summer months need to be avoided as there are lots of midges and tourists. Thirdly, my worries about the Land Rover were unfounded, it performed magnificently. So now I'm working out logistics and costs and will be posting details of the new workshops soon so watch my Facebook pages for updates.
A Beginner's Perspective
01/07/2015
For photography newcomer Clive Saunders, the opportunity to come down and be shown the ropes of DSLR photography and post-production was what drove him to book a 3 day workshop. In being confused as to what he needed to buy and what would be the best for him, he took up the chance to try before you buy, using a full Canon set-up that I hire out for such occasions. Here's what he said of his Seascape Workshop experience...

"What a wonderful way to learn the basics of Seascape Photography! I spent three days with Chris taking me through the processes needed to achieve the perfect image. I mainly learned about Composition, Light, using filters and how to balance the exposure. I enjoyed good food and great company with Chris and Sam in their lovely home... I have been bitten by the bug!!!"

If you are considering taking-up photography, then there's no better way than to get one-to-one guidance to show you the ropes and guide you through the pitfalls. That's the whole idea behind my Beginner's Seascape Workshop.
A Seascape Workshop Review
29/05/2015
Here's a write-up from an experienced photographer who regularly attends photo workshops in the UK and abroad.

-------------------------------------------

Chris Simmons – Cornish Seascape 1-to-1 Workshop Review

I recently did a 4 day 1-to-1 workshop with Chris in early May 2015.

Contact and Communication
Responsive and appropriate exchanges via email and telephone gave confidence in committing to the experience.

Travel and Accommodation
Arrival and departure arrangements were flexible. I chose to fly to Newquay from Manchester (more convenient and not much more expensive than the train from the North West) and Chris gave lifts from and back to the airport.
The accommodation is more than comfortable – and the food - not for the faint appetite – and the arrangements are worked around the photography shoots and requirements.

Workshop Structure
Simply, it's about YOUR photography in locations well known and rehearsed by Chris.
Basically a 'full-on' experience combining different locations, times – yes both 'Golden Hours' in a day!! , the use of gear, lenses, tripod, filters etc. image reviews and post-processing at a required level.

Learning Outcomes
For me, the experience of dealing with the concept of the dynamic environment of coastal photography, what the blurb I guess describes as 'the decisive moment'.
Lots of other stuff as well, but this and the impact of emotion on the creation of the image 'in-camera' comes through during the time spent shooting and assessing and processing images.

Repeatable?
You bet!

Geoffrey Wignall, Preston
The Poldark Factor
15/04/2015
The BBC's period drama is drawing people to my Seascape Workshops.
It has been a regular summer scene around Port Isaac and Port Quin, whereby coach-loads of foreign tourists (known locally as 'Klunatics') descend on these picturesque little fishing villages. They are here to see where Doc Martin is filmed but there's not a great deal of interest shown outside this localised area. However, the BBC's dashing new dramatisation of Winston Graham's Poldark novels has brought a surge of interest in Cornwall's stunning coastal scenery. In turn this is driving a new audience of photographic enthusiasts, who are looking to come down and shoot some of the featured locations, to my Seascape Workshop website.
Fortune would have it that my home on the North Coast is ideally positioned to do just that. Crantock is almost equidistant between the main mining location near St. Agnes Head and the rolling clifftop scenery close to Padstow. Also the locations on The Lizard and the rugged scenery near Botallack and Zennor regularly feature in my daily itineraries. So all the main coastal locations are covered off. There are also the ports and Charleston Harbour is a short drive away over on the South Coast. We just have to get there early as the sunrise is often spectacular and we avoid the daytime visitors. But there's more than just where the production crews are limited to visit - where distant buildings, pylons or wind farms don't interrupt their panning - there's a whole host of locations on my doorstep that inspired the author's writings.
Back in 1945, Graham published his first novel. He wrote it in Perranporth just a couple of miles away and came back year after year, staying in a small clifftop cottage to pen his series. The real Wheal Leisure mine was on the cliffs overlooking the vast, 3 mile long beach, that is surrounded by some truly beautiful scenery. So it is right here, amongst the golden sandy coves and high rugged cliffs, that he wandered and got his creative juices flowing. They are quite remote and TV cameras can't reach these places. But we can and there's so much to photograph. The majority of my images are taken along this stretch of coast and if you'd like to view them
go to the 'Cornish Horizons' gallery in my photography website's Portfolio section.
I am really enjoying the TV series and it's great trying to spot the exact vantage point the scenes are filmed from (as well as watching Eleanor Tomlinson!) So I am delighted to hear that due to its runaway success, a second series has been commissioned. This comes at the ideal time as my Seascape Workshop business enters its second season and I am always looking to get me name in front of prospective new clients. Hopefully the BBC will be selling Poldark abroad and, fingers crossed, I'll get some more foreign interest generated. I've had a client come over from Sweden on two separate visits and of course, the adorable Carole Lesley-Hyatt, who came from Wales... (she's going to slap me for that!)
Anyway, if you'd like to visit the 'Poldark Coast' then why not do it in style? Come and take a 3, 4 or 5 day seascape photography workshop in Cornwall and I will show you the very best locations while you brush-up your photographic and post-production techniques. Please get in touch and we can organise dates.
Seascape Workshop Gear Checklist
15/04/2015
All you need to bring on your 'Enthusiast' Seascape Workshop
To get the best from your time out on the Cornish coasts, I've put together a checklist of the gear required for an 'Enthusiast' workshop. This only an outline guide and it may be that you have more equipment that you'd like to bring which is absolutely fine. Alternatively, especially if you're flying down, you may be compromised on bringing items like Wellingtons. It's really not a good look wearing them in the airport lounge! So we will talk things through prior to your arrival to make sure we have something in place. Likewise, don't be alarmed if you're taking a Beginner course and looking at all the camera gear with trepidation. We will talk through what you will need to bring as I have a whole selection of tripods, filters etc. that we can sort you out with if the need arises.



CAMERA GEAR -

Back Pack
Camera
Lenses - Wide Angle Zoom & Telephoto
Flash Gun
Tripod
Filter Holder & ND Filters (Soft & Hard Grad)
Polarising Filters
Batteries & Charger
Memory Cards
Remote Trigger
Small Torch
Lens Cloths

Lap Top (& Slave Drive back up)
Note Book (for your studio post production workflow notes)


OUTER CLOTHING

No matter the time of year, when shooting the golden hours on a remote clifftop or sweeping beach it will be chilly. So here's what I recommend you pack along with the usual clothes you would wear on a day out in the open - fleeces, walking trousers, T-shirts etc.

Waterproof Anorak
Waterproof Over-Trousers
Shorts
Wooly Hat
Gloves
Walking Boots
Wellingtons

Sunglasses - Essential at any time of year as you will be standing by water that reflects the UV rays and looking into the sky.
Sun Cream

If you are booking an 'Advanced' or 'Adventurer' workshop, we will discuss your objectives and organise the equipment you need to bring accordingly.