Surrounded by clear blue ocean, Cornwall's vast golden beaches, towering cliffs, remote coves and tranquil estuaries create a beautifully varied coastline. Add that sunrise on the South Coast and sunset on the Atlantic Coast are just a few miles apart, providing you know exactly where and when to go, you have the ideal destination for seascape photography. That's why, as an extension to my professional work, I run Cornish Seascape Workshops. Exclusive courses for a solo individual (or couple) of all age and experience levels, who want to expand their seascape knowledge and digital skill set.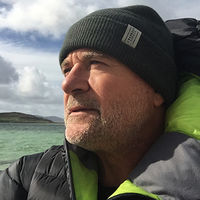 Since their launch in 2013, my workshops have gained an international reputation for excellence. Based in Crantock on the magnificent Atlantic Coast, my all-inclusive offering is unique. For unlike group tours, where numbers compromise individual attention. Or day courses, that lack location diversity and real in-depth insight. This one-to-one, residential, multi-day workshop focusses solely on you and your aspirations.
You decide from a 2 to 5 day stay at your chosen time of year, and I will match the seasonal and tidal influences with your experience and comfort levels, to create a bespoke itinerary of superb locations. Here we will shoot through the blue and golden hours of each day, with more daytime shoots and plenty of studio time in between. This makes for "an intensive photographic experience", as one regular client puts it, hence 5 days is the longest stay I offer. However, any stay can be extended by two night's B&B to help travel connections and ease jet lag.
My guidance combines experience gained in a 35+ year, London-based, professional career, with an award-winning seascape approach and my extensive knowledge of the Cornish coastline. In tailoring the instruction to suit you, I can help extend your seascape compositions through widening your appreciation of coastal dynamics, manual settings, lighting and filters. Inspiring you in capturing Raw images 'in camera', then 'refining' them through considered post processing. The aim is to build a varied body of stunning photographs that capture the visual dynamics you witnessed, through your new-found skills.
Yet it's not about hard graft and formal instruction, it's about you enjoying rising to the challenge. So the welcome is warm, the attitude is relaxed and the premise is for you to relish the experience. This way you absorb everything. Especially in the studio where again, my course stands out. For I have been using Photoshop professionally since 1990 and I will open a clear, step-by-step, path through the maze of menus, sliders, tools and layers, to show you how to process superb, gallery quality images. It is true to stay that many of my clients have gone on to win club competitions with their Cornish Seascape Workshop images. One was accepted into the London Salon of Photography, and a number of regular clients have gone on to sell their work. I have also hosted many professional photographers who wanted to extend their commercial repertoire. Yet, rather than me banging on about why there really is no other Seascape course like mine, I would ask you to visit the 'Reviews' section and read what so many of my clients have said of their time down here.
My all-inclusive course prices cover accommodation, food and workshop travel, making your stay hassle free and excellent value. You will be driven in a Land Rover Discovery 5. Use 27" Retina Display iMac Pro's running Photoshop CC. Enjoy luxurious en-suite accommodation, and dine from a menu planned around exactly what you like to eat.
As for seasonal choice, here's my personal overview;
Spring
-
March, April, May
- A time of regeneration with vivid colours, bright skies and lengthening days. The sea takes on turquoise hues as sunlight strengthens and wild flowers carpet the cliffs.
Summer
-
June, July, August
- An often idyllic time when long, warm, and
hopefully
sunny days are bookended by glorious sunrise and sunsets. Very early starts and late returns make 2 or 3 days the ideal Summer course duration.
Autumn
-
September, October, November
- A wonderful season when dawns and dusks are often accompanied by mellowed atmospherics. The beaches are quieter and the shortening days make for later starts and earlier returns.
Winter
-
December, January, February
- The wild season of brooding light and stormy atmospherics, where an Atlantic squall sees Cornish coastal drama at its best. Extended 'golden hours', big waves and longer studio sessions make Winter ideal for the adventurous and more experienced photographer.