With vast golden beaches, towering cliffs, remote coves and sleepy estuaries, Cornwall boasts some of the most varied and spectacular coastline in the world. Add that sunrise on the south coast and sunset on the north are just a few miles apart, and you have the ideal destination for seascape photography. That's why in 2013, I moved here to widen my seascape horizons and nurture my love for this spectacular form of the photographic art.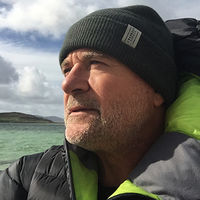 As a natural extension to my commercial work, I combined this passion with my professional skill set to create Cornish Seascape Workshops - exclusive, all-inclusive, residential photography courses for a solo individual, or couple. Based at my home/studio in the coastal village of Crantock, this course is unique. For unlike group tours, where customer numbers dilute any tuition and beginners are often sidelined. Or day courses that deliver little in terms of location diversity and advanced in-depth insight. My workshop sees just you and me, immersed in Seascape photography over your chosen period of time. I will deliver the tuition to exactly match your aspirations and experience. Down on the tideline and in the digital dark room, this course is unrivalled. And remember, everything from your workshop transport, to accommodation and food is included. Making this inspirational workshop both hassle free and exceptional value.
Now in their seventh year, my Cornish Seascape Workshops have built an international reputation for quality and results where four facets set them apart:
Exclusivity
- The focus is solely on you. We get the location to ourselves and back in the studio you have my undivided attention.
Experience
- I have over 40 year's experience of exploring Cornwall's coastline. So I can match tide and time to your aspirations and comfort levels, to ensure we are at the ideal location at the right moment.
Expertise
- My award winning seascape approach is forged on a 30+ year career in London's advertising and design industry. I was at the birth of the digital studio and have been using Adobe Photoshop professionally since 1990.

CLICK HERE to view my photography website
.
Excellence
- Every aspect of the all-inclusive package reflects my aim of offering excellence. So you will be driven in a Land Rover Discovery 5. Use 27" Retina Display iMac Pro's running Photoshop CC. Enjoy comfy en-suite accommodation in a large, modern house and dine from a tasty menu planned around exactly what you like to eat.
While we will shoot spectacular locations right around the Cornish coasts, Crantock Bay is just down the lane. The BBC Coast programme voted it Britain's Best Beach in 2014 and it was recently placed at the heart of a newly founded Marine Conservation Area. It is a true gem in the Cornish coastline that affords an array of shooting aspects at all times of day, tide and season. Itineraries change to match the season with your aspirations, but generally we shoot the blue and golden hours of each day, with daytime locations and plenty of studio time in between. This makes for an "intensive photographic experience" as one regular client puts it, so five days is the longest stay I offer. As for seasonal choice, here's my personal overview;
Spring
-
March, April, May
- A time of coastal regeneration with vivid colours, bright skies and warmer days. The sea takes on turquoise hues as the sunlight strengthens and wild flowers carpet the cliffs. Invigorating, fresh and inspiring!
Summer
-
June, July, August
- An often idyllic time when long, warm,
hopefully
sunny days are bookended by glorious sunrise and sunsets. With the early starts and late returns, daytime routines work around a mid-morning break to recharge the energy levels. Two or three days the ideal Summer workshop duration.
Autumn
-
September, October, November
- The beaches quieten, peace descends and the shortening days can be sultry and colourful. A wonderful time of year when dawns and dusks are often accompanied by breathtaking atmospherics, so book early!
Winter
-
December, January, February
- The stormy season where brooding atmospherics can be quite magnificent. The chilled, windswept beaches are all but deserted and an Atlantic squall sees wild Cornwall at its best. This is a great time for adventurous shoots and longer studio sessions getting to grips with advanced post processing and printing techniques.